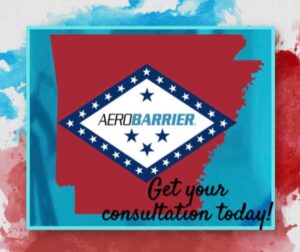 The AeroBarrier process is perfect for any property, commercial or residential.
Here are a few of the key benefits our sealing solution offers:
Weatherizes homes and businesses without the use of caulk or foam.
It provides toxin-free tightness within 4 hours of application.
It seals gaps from the diameter of a human hair up to 1/2 inch.
Our process meets the most aggressive air tightness standards today.
You can easily achieve passive house air tightness standards all within a matter of hours.
It's the perfect remedy to existing workmanship errors affecting air tightness throughout a home or office building.
It completely eliminates noise and odor issues by simultaneously sealing.
It's the perfect solution for any property from multi-family units and homes to commercial properties.
If you're ready for breakthrough envelope sealing technology, call to schedule an appointment with our team at AeroBarriers of Arkansas, today! Our professional technicians will have your home or business ready to pass inspection at the highest standards while saving you the most money.
Call us today at (501) 413-9411 to book a visit or to learn more about our services.