Are you ready for a breakthrough Envelope Sealing Technology? AeroBarrier is a mist that is dispensed into the living area of the home, and when pressurized it fills and closes gaps as small as a human hair — tightly sealing the building envelope.Did you know that Arkansas is adopting more stringent IECC measures? AeroBarrier of Arkansas has got you covered, whether you were prepared for the new changes or not. We guarantee that you will pass the most aggressive IECC standards the first time.
The revolutionary sealing technology used by our team reduces labor cost and eliminates human error related to sealing. Our approach also sets a house on the NetZero path while improving quality of life. Nervous about the new changes? We can help! Our professional technicians will have your house ready to pass inspection at the highest standards while saving you money.
Gord Cooke,
Construction Instruction
"AeroBarrier could very well be the end game in our industry's search for a comprehensive, cost-effect way to control leaks through building enclosures. Properly sealing a home or building to precise levels can be time consuming, stressful to site staff and expensive. With ever increasing expectations of homeowners and changing building codes, homes will be expected to be more air tight than ever. There isn't more important technology in our industry today."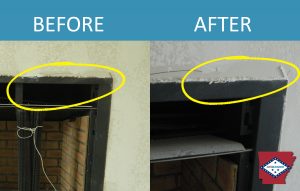 STEP 1
We blow strong winds into the building/home with a specialized fan. The build-up of air pressure forces the wind to leak out of holes, cracks and gaps throughout the structure. A measurement of air leakage is recorded.
STEP 2
As the airborne sealant is pushed to the air leaks, the change of temperature coagulate and forms a solid sealant in the problem areas.
STEP 3
The Building/home get sealed all at once with our patented computerized process. No more guesswork, no more mess and no more failed blower door tests!
Better indoor air quality
Most people spend 90% of their times indoors.


Leaky homes have more toxins than outdoor air.

Tightly-sealed homes offer green air on red days.

AeroBarrier is a non-toxic option instead of foam.
Save Energy and Money
70% of energy use is for temperature control.


Tight buildings need less energy to hold a comfortable temperature.

A well-sealed home is ready for NetZero standards.

AeroBarrier is a low cost solution to expensive air leaks.
Pollute Less
40% of CO2 emissions are from buildings.


Most building emissions are due to overrun HVACs.

AeroBarrier supports a home with less energy demand.

AeroBarrier reduces outdoor air emissions.