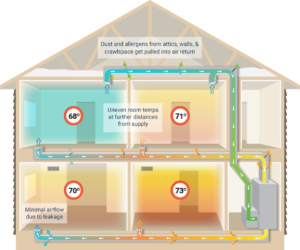 Duct leakage robs you of comfort, energy, and peace of mind.
Cracks and holes in your home's air vents and duct system allow heated and cooled air to escape before reaching your rooms. While even new ductwork may look professionally installed, each metal on metal connection that has not been properly sealed is a point of leakage. This results in leaving you with stuffy, uncomfortable rooms and wasted energy.
This leakage is a significant and often overlooked problem in homes.
The investment you make in your home is even more significant. Why not get the most out of your investment with a comfortable home?
DUCT LEAKAGE FACTS:
95%
of all homes
have leaky ducts
25-40%
of your heated &
cooled air leaks out
$0.30
of every $1 you spend
on energy is wasted
$25 Billion
is wasted every year
in the USA
TAKE BACK YOUR HOME
Our innovative service at AeroBarrier of Arkansas makes it easy.
Our Aeroseal system automatically finds and seals all the leaks throughout your entire duct system with precision. Giving you a home with even temperatures in every room, healthier air, and energy savings.
Not only do you feel the difference immediately, you'll see the verified before and after results in a printed certificate!
All sealed in a few, short hours. You'll feel the difference immediately (and see the savings on your energy bill!)
Contact us today to schedule an appointment with the AeroBarrier of Arkansas team!
Call us at 501-413-9411 to get started.